Striking Southampton council workers reject pay deal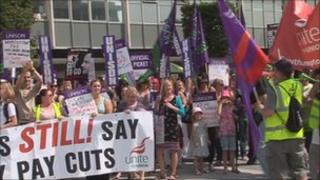 Unions have rejected an offer put forward by Southampton City Council to try to end 12 weeks of strike action.
The dispute is over the introduction of new contracts forcing council workers earning more than £17,500 to take a pay cut of up to 5.5%.
The council said it would put £1m extra towards staff salaries so the cut could be slightly reduced.
Unite and Unison members voted four-to-one to reject the deal, meaning more strikes could now be planned.
Toll collectors, parking officers, bin collectors, library staff and street cleaners have all been on strike during the past three months. Social workers first joined the strike action on 3 August.
In February, the Conservative-run council finalised budget cuts of £25m and announced plans to reduce the pay of workers earning more than £17,500. Workers earning less than £17,500, which is 41% of the workforce, would receive an extra £250 a year.
Under the revised proposals, an extra £500,000 would have gone to social workers' salaries.
A further £300,000 would have been spent on raising the threshold at which pay cuts would apply from the existing £17,500 to £22,000. The remainder would have been spent on reducing the overall pay cut by 0.5%.
'Rejected plans'
Unison Branch Secretary Mike Tucker said: "Council workers have clearly rejected the council's revised wage cut plans. Even under the new proposals. Councils workers will suffer a substantial drop in pay."
Unison and Unite said officials will meet on Thursday to agree further industrial action.
Council leader, Royston Smith said: "I'm disappointed. They [the unions] know we can't go further, there is no more money."
The vote comes towards the end of the 12-week period during which strikers have legal protection. Although they could technically be sacked, Mr Smith said the council "doesn't intend to" go down the path of dismissing strikers.
He said: "The whole point of this exercise was to try and protect jobs. To say now that we will sack striking workers is not something which I want to consider if I can possibly help it."
"But we will not continue to allow people to be disrupted by this strike action," he added.