Boy's family in Cowes Week bone marrow plea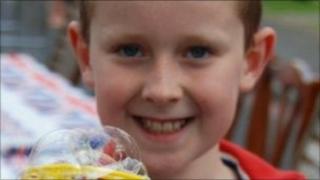 The family of a Hampshire boy who has a life-threatening condition are appealing for bone marrow donors during Cowes Week on the Isle of Wight.
Alex Hannard, nine, from Stubbington, has chronic granulomatous disease (CGD), which affects his immune system, and needs a bone marrow transplant.
His family and the Anthony Nolan Trust are recruiting for the register at Shephards Wharf Marina, Cowes.
They want potential donors, especially young men, to give a sample of saliva.
Alex was diagnosed with CGD in 2007 when he was just five and had complete respiratory failure within a week of first becoming ill.
Since then he has only been able to go to school about half of the time and has had several spells in intensive care.
'Science nerd'
His mother, Louise, said: "The only chance of a cure is a bone marrow transplant.
"We decided to go ahead with it last year. We had a donor lined up but some matching issues came up so we lost the donor three days before the transplant was due to happen.
"He really wants the transplant. He told us, 'I don't want to be different any more - I want to be the same as everybody else.'
"He's a real science nerd so he understands all the science behind it. He wants to work in genetics."
Potential donors will be able to join the bone marrow register at Shephards Wharf Marina between 13:00 and 20:00 BST on Wednesday and from 10:00 BST and 13:00 BST on Thursday, or by contacting the Anthony Nolan Trust.
The trust is particularly looking for male donors aged between 18 and 30.
Aberdeen Asset Management Cowes Week is an annual sailing event attracting more than 100,000 spectators.