Southampton football fan inspires pre-season play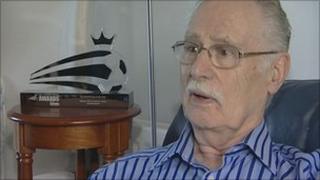 The life of an 80-year-old Southampton football fan is the inspiration behind a new play.
Lifelong Saints fan Phillip Douch wrote Herbie and the Saints to reflect the "ups and downs and ups and downs" of fans in recent years.
The storyline revolves around Herbie Taylor, 80, from Swanmore, and a group of Saints fans on an internet forum.
Mr Taylor said: "It shows the joy of seeing our club saved from extinction to promotion in just two years."
'Banter and dedication'
Herbie Taylor first watched Saints play at their former Dell ground in 1940, at the age of 10.
He won the Football League's Fan of the Year award in 2010 and still works as a tour guide at St Mary's Stadium.
When he heard about the play he said he was "surprised, flattered, and embarrassed" at the idea.
He said: "But this play is about the good side of football, the wit, humour, the banter and dedication of thousands of Saints fans all over the world."
Phillip Douch's play charts the real-life drama of Southampton FC's recent history, when the club faced spiralling debts, near bankruptcy and relegation into the third tier of English football.
Mr Douch said: "It's just been really exciting to combine my work as a writer with my idiotic passion for Saints."
He started writing Herbie and the Saints during the closing stages of the season, when promotion to the Championship began to look a realistic possibility.
Having hurriedly brought together a professional cast, musical director and choir, Mr Douch aims to be ready for a performance before the start of the new football season.
The play touches on the death of Markus Liebherr in August 2010. The club had been taken over by Mr Liebherr in 2009 and won the Johnston Paints Trophy at Wembley the following year.
Mr Douch said: "It is one of the most moving moments in the play - that he died before he could see the club turned around and the success that followed."
The production team is currently looking for community groups to host the play.
It will also be performed at the Berry Theatre, Hedge End, on 28 July and the Nuffield Theatre, Southampton, on 30 July.