Southampton council workers' strike to hit port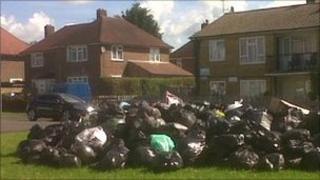 Unions have vowed to bring Southampton's port "to a halt" as more strikes are planned by council workers in a dispute over a planned pay cut.
Thirteen port health workers are due to walk out on 11 July for five days causing major disruption to ships, the Unite and Unison unions said.
Hundreds of staff have taken action since May, with refuse collectors due to end their latest strike on Tuesday.
The Tory-led city council said the pay cut is needed to save 400 jobs.
The unions said further action starting from 11 July will also see hundreds of waste and recycling, street cleaning and library staff walk out for seven days.
'Bully staff'
Toll collectors, social care supervisors and vehicle mechanics are also due to strike.
The council has set a deadline of 11 July for workers to accept new terms and conditions or else they will be made redundant.
So far, about 1,500 employees are yet to sign up - although council leader Royston Smith believes they will fall in line ahead of the deadline.
Ian Woodland, Unite regional officer, said: "[The council] must wake up now to how serious this city's council employees are about getting justice.
"There is absolutely no need for this city to force people on to lower wages - to do so is a malicious attempt to bully worried working people into accepting any terms in order to hang on to their jobs."
In February, Conservative-led Southampton City Council finalised budget cuts of £25m and said all workers earning more than £17,500, which is 65% of staff, would have their pay cut.
The council said the alternative was to lose another 400 staff on top of 285 cuts already announced.
During recent talks with unions, the council had offered that anyone earning £22,000 or less would no longer have their pay cut - but the negotiations broke down.
Council leader Mr Smith said: "I think what it [the new strikes] demonstrate is the depths the unions are sinking to in order to disrupt services for people in the city.
"We are still prepared to bring this to an end with an agreement."