Raccoon spotted in Chandler's Ford garden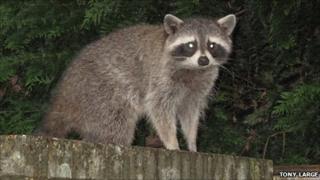 A raccoon has been spotted in a Hampshire town garden.
Tony Large said he was watching television when he saw the animal crossing the front garden of his Chandler's Ford home.
He grabbed his camera and followed the animal, taking pictures.
"I didn't want to harass it too much, not knowing the raccoon's temperament, so after taking the photos we left it alone," he said.
But he added: "It did seem tame, in that it didn't run away."
Family 'gobsmacked'
Mr Large, a professional photographer, said his wife reported the sighting to police and the RSPCA.
He said his family who were out when the raccoon arrived, did not believe him at first but were "gobsmacked" when they saw it themselves.
"I was around the back of the house taking photos when my wife and eldest daughter came home, completely unaware I was outside," he said.
"I rang the doorbell to get back in, showed them the photos on the camera, and still they didn't believe me.
"Luckily it was still on top of the fence in the back garden."
Raccoons are nocturnal and native to North America but some have been seen in continental Europe after they were introduced deliberately or escaped from fur farms.
Mr Large added: "It disappeared over the fence into next door's garden, and we haven't seen it again."