Winchester Pipe Rolls placed on Unesco heritage list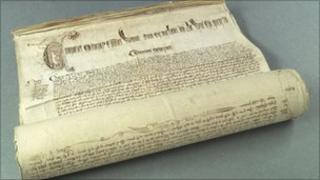 One of Hampshire's most important sets of historical documents has been awarded a place on Unesco's UK Memory of the World register.
The Winchester Pipe Rolls, stored at Hampshire Record Office, are among 20 artefacts selected from UK archives.
They have been listed by Unesco, the cultural branch of the UN, as representing the UK's heritage.
The Pipe Rolls are the most complete set of manorial accounts in the country, dating from 1208/9.
The accounts run almost unbroken to 1710/11.
They depict a record of the Bishop of Winchester's finances across southern England, the richest episcopal estate in England.
The series includes 328 documents covering the accounts of more than 60 manors.
Deposited at Hampshire Record Office in 1959, the Winchester Bishopric Collection is now one of Hampshire's most prized treasures.
Details contained within the Pipe Rolls include that in 1302 at Droxford Manor 160 cheeses were made.
In 1220 the rolls follow King Henry III's travels from Brightwell to Downton and Taunton, recording his spending on food, drink, candles, robes and soap.
Councillor Keith Chapman, from Hampshire County Council, said: "The Pipe Rolls are iconic and valued as a treasure among the vast Hampshire Record Office collections.
"It is a true honour for the team that look after them to have them not only nominated but accepted onto the Unesco UK Memory of the World Register.
"In addition to their immense value to historians, they form an important link between today's community and that of past centuries."