Gloucestershire abuse home residents must move out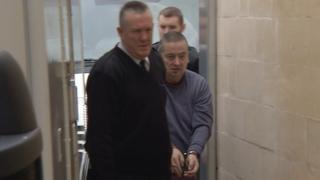 Residents living at a home where a care worker admitted raping three vulnerable women have been told they have to leave the accommodation.
It has led to concerns about where the residents will now be housed.
Colin Stokes, 48, from Dursley, was jailed for 14 years on Thursday after admitting carrying out the offences at the Gloucestershire home.
The home's owner said he had been unable to reach an agreement with a new care provider about its future.
In a letter to residents and their relatives, which has been seen by the BBC, the owner - who can not be named for legal reasons - said the residents would have to leave before the end of April.
The man, who owned the home at the time Stokes carried out the abuse in 2013, had been contracted by Gloucestershire County Council to provide care but this contract has since been cancelled.
One of the resident's relatives said: "It's another nail in the coffin - it's absolutely appalling."
They said two months was a "ridiculous" amount of time to find new accommodation and did not know "how anybody could think of doing that".
The relative added: "It's just a crazy situation again."
The letter added the new arrangements were not financially viable without a long-term lease, which "despite verbal discussion" with the new care provider, the home's present owner has been unable to secure.
"The tragic events that unfolded in April 2013 were out of our control," the letter continued.
"Despite our very best efforts Gloucestershire County Council terminated our contract. We have and continue to refute the reasons for this decision.
"We have therefore been left with no option but to terminate our tenancy agreement with all the service users."
Chris Haynes, who oversees learning disability services for the council, said they will be assisting the residents to find new homes.
Mental age of child
During the court case it emerged Stokes was also arrested in 2007 - six years before a second investigation - on suspicion of "inciting sexual activity with a mentally ill female at a care home".
He was questioned and bailed by police, but no further action was taken.
A second investigation began in April last year when one of Stokes' colleagues reported a resident had told them they had been abused by him.
One of his victim has a mental age of a child, another is registered blind and the third needs aid to communicate.
Gloucestershire County Council has commissioned a Serious Case Review to examine how Stokes was allowed to continue working as a carer after initially being investigated in 2007.
The accommodation did not have to be regulated by the care watchdog, the Care Quality Commission, and the prosecutor in the case told the court it "fell through the regulatory trap".