Shortage of A&E doctors to cover night shifts at Cheltenham General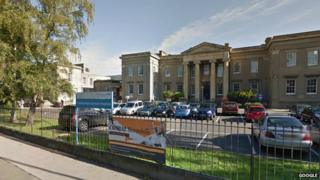 Cheltenham General Hospital is struggling to employ enough doctors to work night shifts in A&E, a review of emergency care in Gloucestershire has found.
The report found the situation had improved, but the hospital trust was still facing challenges in recruitment.
The casualty unit was downgraded last July because of lower demands at night and staff shortages.
Ambulances are now being diverted to Gloucestershire Royal at night.
The six-month review of emergency care by Gloucestershire Clinical Commissioning Group, found night shift recruitment had been "extremely challenging".
In an effort to attract more overnight consultants, the trust changed its night time rotas to make the shifts less onerous on doctors, which improved the situation.
Pay them more
Dr Clifford Mann, president of the College of Emergency Medicine, said the pressure of working in A&E was "putting off recruits and making it difficult to keep those doctors we already have".
Labour MP Margaret Hodge, who chairs the Commons Public Accounts Committee, said doctors could be enticed to work at struggling hospitals if they were paid more.
"You could do that by using the money you spend admitting people who don't need to go into hospital and paying those consultants - rewarding them more," she added.
The six month review also highlighted concerns about the number of diverts and transfers of patients to other hospitals in the county.
Melanie Glanville, South Western Ambulance Service NHS Foundation Trust, said it would continue to "ensure patients get the care they need, quickly and in the right place".
Gloucestershire County Councillors said they will write in support of the Trust to the College of Emergency Medicine, the government and Gloucestershire MP's outlining the need for more overnight doctors.
They will also receive monthly updates and a final report in August.