A417 bottleneck 'costing businesses thousands'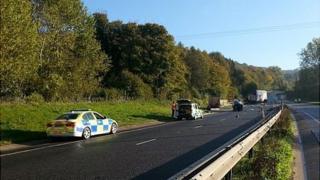 Companies forced to use a traffic bottleneck near Gloucester claim delays are costing them thousands in lost business and extra costs.
Long traffic jams occur on the A417 where the existing dual carriageway is reduced to a single lane near Birdlip.
The county council wants the three-mile (5km) stretch added to the Highways Agency road scheme priorities.
One firm, Creed Foodservice, estimated delays were costing £15,000 a year. Others said delays were affecting them.
The route, which connects the M4 near Swindon to the M5 near Gloucester, is used by 34,000 vehicles daily.
'Time-consuming'
But in the past 15 years there have been more than 340 casualties.
In November, after major concerns about the route, Transport Secretary Patrick McLoughlin met local MPs to discuss funding improvements.
A campaign to secure funding for a bypass has attracted more than 3,000 pledges of support.
"We've probably got 20 trucks going east everyday and it's time-consuming, sitting there for half an hour to 40 minutes just idling," said Philip de Ternant, of Creed Foodservice.
"With idling time, vehicle maintenance and driver overtime, in excess of £15,000 would be a fair figure to put on the cost to our business."
Andrew Ford, of Herbert Davis Removals and Storage, also said traffic delays of "three quarters of an hour or more" were costing his business.
"I've never really sat down and calculated the cost but it must be significant, both in the extra fuel you burn when you're sitting with your engine idling and with the time wasted," he said.
Kay Brookes, of the Revival Company, said the cost to its disaster restoration business was also "significant".
She said: "When customers call us in, we're talking about a dire emergency in their lives and the last thing they want is any delay.
"So any hold-ups hurt our bottom line, damage our customer service and affect our good name."
The county council wants a new dual carriageway bypass included in the next round of major Highways Agency projects, due to be announced at the end of next month.