Care worker Colin Stokes admits raping residents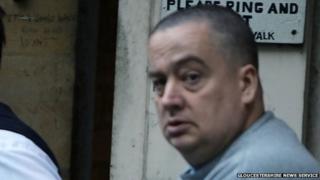 A care worker has admitted raping vulnerable residents at a Gloucestershire care home.
Colin Stokes, 47, from Dursley, appeared at Gloucester Crown Court where he admitted three counts of rape against three women between January 2012 and April 2013.
He denied a further count of rape and one of sexual assault. The court was told those charges would lie on file.
Stokes was remanded in custody until 20 March, when he will be sentenced.
Judge Jamie Tabor QC ordered a pre-sentence report to be completed to assess what danger Stokes may pose in the future.
Relatives of the victims were in court to see Stokes admit the rapes.
Speaking to the BBC, the mother of one of Stoke's victims, who cannot be named for legal reasons, said the abuse should "never have happened".
'Needed total care'
Her daughter was born very ill and underwent brain surgery which left her mentally and physically disabled.
She now has a mental age of a six or seven-year-old.
"She can't wash herself, dress herself. She can feed herself, but she can't go and make a drink," her mother said.
"She's very with it though, she knows who's who, what's what, but she's had a rough life really."
She said the moment she was told about the abuse was "horrendous" and she was left struggling to make sense of what had happened.
"A person from social services came out and told us my daughter had been sexually abused," she said.
"It just came out of blue...You can't actually get your head around that at all, because she is so vulnerable.
"I'd have gone straight down there and killed him, no hesitation. You actually can't physically think of what he had done to her.
"You think, 'they've all got it wrong, something like that can't happen to her and the others'."
When the allegations came to light, her daughter used sign language to talk about what had happened to her, with a police specialist called in to interpret her signing.
"She was really, really upset at the interview. She was physically sick half way through, as soon as they mentioned his name," she said.
"We haven't talked to her about it much as we don't want to keep bringing it up. It's too distressing to know your own little dot has been sexually abused like that. It's just horrendous.
"Prison is too good for him. He still being fed and watered. He has ruined our lives, he has ruined my daughter's life, he has hurt her.
"I think she is now coping quite well. But then, you never know what he said to her, or how often it happened.
"They were very easy prey, very easy prey."
Speaking after the court appearance, Margaret Willcox, director of adult services at Gloucestershire County Council, said they were "absolutely appalled" at what had happened.
She said concerns were raised following a check by the council on its care services and the police were immediately involved.
"We have terminated our contract with the provider, and have contacted every council in the UK suggesting no care business is placed with them," she added.