Gloucester Sharpness Canal death men 'had been drinking heavily'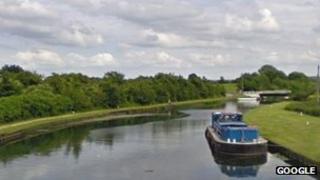 Two men found dead at a Gloucestershire canal had been drinking heavily, an inquest into their deaths has heard.
The bodies of Terence David Humphreys, 69, of Narberth, Pembrokeshire, and Nicholas Cyril Barry, 53, of Cynghordy, Llandovery, Carmarthenshire, were found on 12 January.
They were discovered at the Gloucester-Sharpness Canal, near Purton.
The inquest at Gloucestershire Coroner's Court was adjourned until 20 July.
Gloucestershire coroner's officer Terry Onions said the two men had spent the afternoon and evening of 11 January drinking up to nine pints of beer each at the Tudor Arms at Slimbridge.
They had then set off in the dark with their three dogs to walk along the Gloucester-Sharpness Canal to get to their separate boats moored nearby.
At 09:40 GMT on 12 January Mr Barry's body was found soaking wet on the canal bank at Purton with the dogs sitting nearby.
The body of Mr Humphreys was found 45 minutes later floating in the canal, he said.
"There are no suspicious circumstances but at this stage it is unknown exactly what happened," said Mr Onions.