Demolition of Gloucester's eyesore Golden Egg begins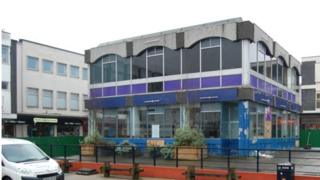 Work to demolish a notorious eyesore in Gloucester, which has lain derelict for a decade, is due to begin later.
The Golden Egg building in Kings Square, formerly a restaurant, is being pulled down as part of a redevelopment of the surrounding shopping area.
It was bought by the city council in December which said it had taken months of negotiation to agree a deal with former owner Aviva Investors.
The 1960s building has been the source of complaints for years.
It is expected to be pulled down completely in February once the work ends to strip out and demolish the inside.
In 2012 a £60m deal was signed between Gloucester City Council and developer Stanhope plc to revamp Kings Square and build 30 new shops, new restaurants and a bus station.