Cheltenham plane crash: Pilot 'became confused'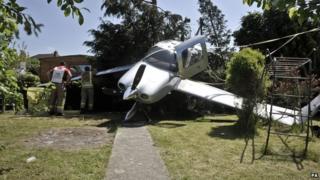 The pilot of a plane which crash landed in the garden of a house in Cheltenham was "confused", a report has said.
The Air Accidents Investigation Branch (AAIB) report concluded the pilot was "distracted" by the autopilot.
The plane narrowly missed a row of houses when it came down in Up Hatherley at 10:00 BST on 6 June. Nobody on the ground was injured.
The 76-year-old pilot, from London, who had 673 hours of flying experience, was also unhurt.
The report showed the pilot disengaged and re-engaged the autopilot but did not notice it had reverted to a different mode when it was turned back on.
This meant the aircraft automatically tried to maintain a banked turn. The pilot attempted to level out the wings but the autopilot continued to try to turn.
He turned the system off again, and tried to correct the situation, but he "over-controlled" the aircraft and lost control.
The aircraft was surrounded by cloud cover and the pilot decided to deploy the ballistic recovery system (BRS) emergency parachute, which slowed the descent of the single-engine Cirrus SR22.
The aircraft had been heading from Denham Aerodrome in Buckinghamshire to Gloucestershire airport, but came down in Langdale Road in Up Hatherley, about two miles short of its destination.
The investigation concluded the pilot did not notice the autopilot was running in a different mode because of a "high workload".
It said he was "distracted and confused" by the unexpected aircraft response, which led to him "becoming disorientated to the extent he felt he was unable to control the aircraft safely".