Cotton motorcycle presented to Gloucester Folk Museum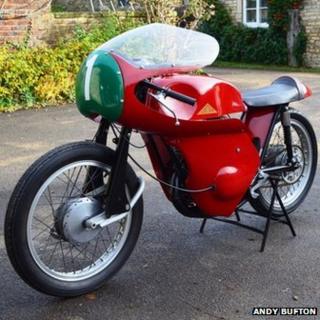 A rare Cotton motorcycle made in Gloucester has been presented to the city council.
The British Motorcycle Charitable Trust (BMCT) will loan the only surviving Mark 1 Telstar in its original form to the city's folk museum.
It was restored in the US and was recently bought by the trust and shipped to the UK.
Cottons were made in Gloucester between 1919 and 1978. Only 16 Mark 1s were ever made.
Andy Bufton, from the trust, said he was delighted that the bike, with frame number five, would be put on permanent display.
"It was restored by a firm in the States and went into a private collection. It was then sold at auction to a man from Philadelphia," he said.
"We became aware it was for sale and bought it from him recently. The bike only came into the country two weeks ago."
Councillor Colin Organ, from Gloucester City Council, said: "It is fabulous that the Mark 1 Telstar Cotton motorbike is returning to the city.
"The championship bikes displayed exceptional handling for their time and this is believed to be the earliest Telstar in existence, and the only one still to Mark 1 specification."
Cottons became famous in the 1920s when some machines won the prestigious Isle of Man TT,
The factory was originally based behind the museum where there is now a car park.
For many years the Cotton Motorcycle club has held an annual rally at Gloucester Folk Museum to celebrate the machine.