Plans for regeneration of north Cinderford go on display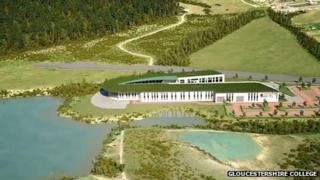 Plans for a new campus for Gloucestershire College and residential and commercial development in the Forest of Dean have gone on display.
The two-day exhibition will give the public the chance to comment on the planning application for the northern part of Cinderford, a former coalfield.
The campus will also include a training college, sixth form and social centre.
Visitors will also be able to meet the project team to ask questions about what is planned.
Work is due to start in Spring 2014 - to be completed by August 2015 - if planning permission is granted.
The plans are on display at the Belle Vue Centre, Cinderford until 20:00 GMT and from 10:00 until 13:00 GMT on Saturday.