Alan Crickmore to face disciplinary panel over £2m theft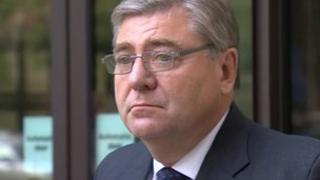 A coroner who stole £2m from clients at his solicitor practice will face a disciplinary hearing.
The Solicitors Regulation Authority (SRA) has said it believes there is a case for Alan Crickmore to answer and has set a tribunal date for April 2014.
Crickmore, 57, from Gloucestershire, was jailed for eight years for stealing from clients, some of whom had died.
The SRA's director of enforcement said it was now in a position to deal with his professional conduct.
The SRA also confirmed it had paid a total of £116,645 in compensation to nine claimants who were victims of Crickmore, who was jailed on Thursday.
One of the victims that claimed was the BBC's Children in Need, which was given £1,000 in compensation.
'Fancy restaurants'
At a previous court hearing Crickmore, of East Approach Drive in Cheltenham, had admitted 24 counts of fraud.
In total he stole £1,985,097 from the accounts of clients and estates of dead people using his practice, Alan C Crickmore Solicitors, in the town.
A court heard how he used the money to fund a lavish lifestyle which included exotic cruises, fancy restaurants and fine wines.
He was suspended from duty in 2010 when the SRA began an investigation into allegations of dishonesty at his law firm.
Gordon Ramsay, from the SRA, said: "We believe that there is a case to answer at the independent Solicitors Disciplinary Tribunal and have secured a date for a hearing on 11 April 2014."
Gloucestershire Police said they would be applying for a court hearing to seize his assets under the Proceeds of Crime Act.