Inquiry begins into rejected Gloucestershire incinerator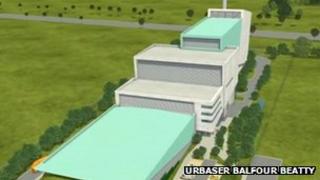 A government planning inspector has begun a public inquiry into the rejected proposal for a £500m waste incinerator in Gloucestershire.
In March, county councillors voted unanimously against the plan for the energy-from-waste plant, in Haresfield.
Objectors were unhappy at its size, location, cost and the potential environmental impact.
Urbaser Balfour Beatty (UBB), the company chosen to build the plant, appealed against the decision.
The inquiry is expected to take 20 days and a final decision is expected to be delivered next summer.
UBB's Javier Peiro said he hopes the inquiry will give the company the opportunity to put additional evidence forward.
He said; "We remain confident that the project accords with all the policies and all the requirements. It's the right site, the right technology and size."
Sue Oppenheimer, from the GlosVAIN campaign group, believes the company's arguments are unfounded and said: "It would be very hard for the inspector to find in their favour."
Gloucestershire County Council's planning committee declined to comment at this stage.
The authority has already signed a 25-year contract with UBB to build the facility at Javelin Park.