Sophia Parslow blind cord death 'every parent's nightmare'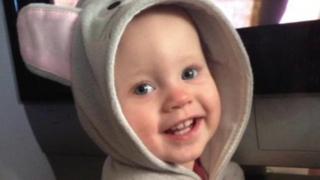 A 17-month-old girl who died after getting her head stuck in a window blind cord died accidentally, a coroner has recorded.
The inquest at Gloucester was told Sophia Parslow was playing at home in Tirley near Gloucester, on 27 June when she became tangled in the looped cord.
The court heard her mother attempted CPR for 10 minutes but Sophia died later in hospital.
Coroner Katy Skerrett said the tragedy was "every parent's nightmare".
"[It was] an unimaginable and tragic accident that every parent fears," she added.
Too upset
Sophia's parents, Amanda O'Halloran and her partner Chris Parslow, were too upset to attend the inquest, but their statement was read at the hearing.
Ms O'Halloran, 22, said she had left her daughter in the lounge watching her favourite TV programme, while she popped upstairs to get some things because her partner's mother was coming to collect Sophia.
She said she was out of the room for no more than four minutes and when she came downstairs, she "panicked" because she could not see or hear her daughter.
She said she then saw Sophia behind a curtain by the window - and that she was suspended by her neck from the chain of the window blind.
Ms O'Halloran said Sophia was unconscious and had vomited - she called 999 and knew how to administer CPR as she had recently been on a first aid course.
'Inquisitive toddler'
Sophia was taken in an ambulance to Gloucestershire Royal Hospital where she died.
The coroner said: "In those few minutes Sophia, a happy, typically inquisitive toddler, climbed onto the chair and I find it more probable than not that Sophia was perhaps trying to look out of the window or trying to reach the photo of herself hidden behind the curtain.
"In so doing, she managed to become entangled in the blind cord and suspended from it."
Sophia's parents are campaigning to have looped blind cords banned.
The campaign - called Sophia's Cause - includes a Facebook page and an online petition, which has already gathered hundreds of signatures.
They posted a message on the page explaining why they had decided not to attend the inquest and paid tribute to their daughter.
The Royal Society for the Prevention of Accidents said there had been 14 window blind cord deaths across the UK since the start of 2010.