St Michael's Tower in Gloucester to be lit up at night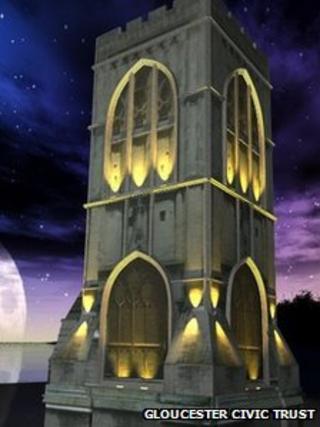 Plans have been unveiled to light up a landmark building in the centre of Gloucester at night.
The city's civic trust wants to illuminate 550-year-old St Michael's Tower, which stands at The Cross, and is the group's headquarters.
The Grade-II listed building was brought back into use in 2009 after standing derelict for many years.
The £30,000 scheme will use LEDs to light the building's exterior, and a stained glass window on the west side.
Marilyn Champion from the trust said: "There are lamps and wiring already in place but they are 30 years old, completely out of date, and cost a fortune to run at present day electricity prices.
"We plan to add to the wiring and install LED lights, which will use a fraction of the current, but add a spectacular sight to the city centre."
Lighting of the tower was part of the original scheme to revitalise the derelict building, but had to be dropped because of the high cost.
Now staff have raised enough money through selling refreshments and attracting grants to draw up a new scheme.
Three companies with experience of lighting ancient buildings have investigated the building and have been asked to come up with proposals and prices.
The tower's newly installed flag pole on the tower roof could also be lit up as part of the plans.