New M5 Gloucester service station creates 150 jobs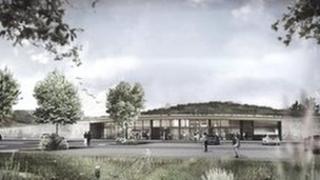 About 150 jobs are to be created at a new £40m service station on the M5 in Gloucestershire.
The services, which are being built in a partnership between Westmorland Ltd and Gloucestershire Gateway Trust, will be at Ongers Farm, between junctions 11a and 12 at Brookthorpe.
Westmoreland's Claire Logan Stephens said the company was looking to recruit people with a "passion" for the county.
The northbound services are being built first and will be open by June 2014.
Mrs Stephens said: "We are really trying to create a sense of place in Gloucester services so that when people stop there they get a real sense of what the county is about."
Westmorland said when the station was open it would feature independent shops and restaurants selling local produce.