Cheltenham former Odeon to become homes and shops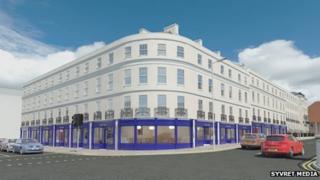 Plans for a £65m project to demolish a derelict cinema complex in Cheltenham and turn it into shops and homes have been approved.
One hundred new Regency-style homes will be built on the site of the old Odeon cinema, which was built in 1933.
It closed seven years ago but has since fallen into disrepair.
The work by Leckhampton Estates, which includes demolishing a former garage on Albion Street was given the green light by the borough council on Thursday.