Naturism numbers are reportedly up in the heatwave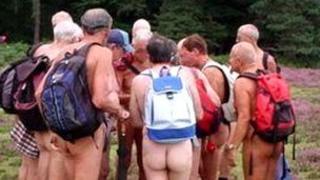 More people have applied to become naturists at a Gloucestershire club since the current heatwave began.
A spokesman for the Pines Naturist Club in the Forest of Dean said "about a dozen" people have joined in recent days and "many others" have applied.
"The weather obviously has had an effect. The sun brings everybody out," said Dave from the club.
"Our secretary is answering the phone every day with more people wanting to know more about the club."
He added: "On a hot sunny day unless you're in a nice air conditioned [building] I'm sure you'd like to be getting out of your hot sticky clothes and just relaxing with a cool breeze keeping you comfortable.
"Primarily we're there to relax and to chill out. It's only the energetic who get up to play volleyball or badminton."
Public nudity
Another naturism club, The Singles Outdoor Club, which organises nude walks on public footpaths on routes designed to avoid other people, said it had seen "about a 25 percent" increase in the number of members attending.
Spokesman Martin Bullen said the attraction was "the general freedom of walking without any tugs and pulls of clothing. Feeling the air and sun on your body - general freedom".
"If we see anybody coming in time, we slip on a pair of trunks.
"If someone comes round a corner suddenly we give a cheery wave, say 'good morning' and carry on," he said.
A police spokesman told the BBC there is no law against public nudity in the UK.
"Nudity itself is not illegal. However using nudity to harass, alarm or distress others is an offence against the Public Order Act of 1986."