Cheltenham A&E night closure judicial review warning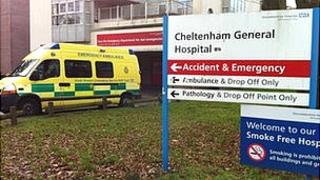 Plans to close Cheltenham's accident and emergency department overnight may face a judicial review, Cheltenham Chamber of Commerce (CCC) has warned.
Chief executive Michael Ratcliffe said the consultation into the downgrade, between 20:00 and 08:00, at Cheltenham General Hospital was "deeply flawed".
He added that the process was confused, and the document itself was biased.
Dr Helen Miller, from Gloucestershire Clinical Commissioning Group, said to "continue as we're doing is not safe."
From August, all out-of-hours emergency "blue light" cases will be sent to the Gloucestershire Royal Hospital instead.
The hospital will continue to deal with "walk in" patients but anyone seriously ill or in an ambulance during that time will have to go to Gloucester.
The changes were agreed by the group, which took over from the primary care trust in April, at a meeting on Thursday.
Dr Miller, the group's chair, said with a "huge shortage of A&E consultants" nationally they were looking for "high quality, affordable care" for patients.
"We consider - between 8pm and 8am - having ambulances with very sick patients going to Gloucestershire Royal where they will be seen by very senior consultant doctors and be assessed is absolutely crucial," she said.
"To continue as we're doing is not safe and we have to do something."
But Mr Ratcliffe said the CCC was extremely concerned that an "incorrect decision" had been made.
"We are most concerned that this could be the thin end of the wedge and that this proposed diversion of emergency ambulances will lead to the gradual reduction of the A&E services at Cheltenham General Hospital," he said.
"And we do not feel the board has acted correctly in the way they have brought this information out into the public domain."
'Real weaknesses'
Cheltenham's MP Martin Horwood has also claimed that there were "real weaknesses in the processes that have been followed".
"I think if a judicial review was going forward I would say there are serious questions to be asked," he said.
The emergency departments at Gloucestershire Royal and Cheltenham General Hospitals currently treat around 120,000 patients every year.
NHS Gloucestershire has previously estimated that 16 patients, on average, with critical illness or injury would be diverted from Cheltenham to Gloucester at night time.