Cheltenham council to discuss cutting senior managers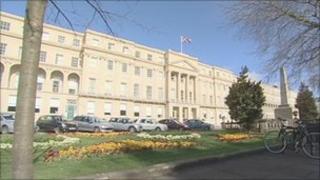 The number of senior managers at Cheltenham Borough Council could be cut from seven to four, under new plans.
If agreed, from next year two top-level managers would be made redundant and a third moved away from the council's payroll, saving £220,000 per year.
Chief executive Andrew North has recommended the restructuring as the council has shrunk since 2008.
Staff numbers have almost halved and the costs of council services have also reduced from £19.5m to some £10m.
Mr North said it made sense to consider the council's future as a much smaller organisation.
"A smaller sized council means we can reduce overheads in areas such as office space, support services and senior management; it also means that services delivered to council tax payers are protected," he said.
Over the next five years the authority needs to make spending cuts of £3.6m.
Election changes
The recommended senior management team would be made up of the chief executive, deputy chief executive, director of corporate resources and director of environmental and regulatory services.
Meanwhile the local authority has also decided not to reduce the number of councillors who run the borough council as part of the cost-cutting measures.
A cross-party working group set up by the Liberal Democrat-controlled authority was asked to consider cutting the number of councillors from 40 councillors to around 30.
But it decided councillors already have too much work and feared the move would damage its relationship with the public.
Members are being recommended to stick with the current number of councillors.
They will also discuss changing the existing system of having elections every two years to the full council going before voters every four years.
Councillors will discuss the proposals on 22 July.