New drain plan for flood prone village of Lydbrook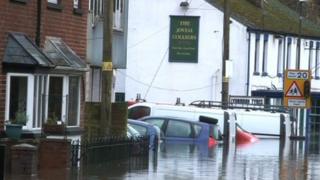 Plans for a new £1m storm drain in a Gloucestershire village, which was affected by flooding last November, have been revealed.
Upper Lydbrook in the Forest of Dean was affected for 48 hours, forcing residents to leave their homes, after a period of "freak" heavy rain.
Forest of Dean District Council said it would be applying for funding from central government for the project.
The scheme will involve building a new box culvert in the main road.
Chris Johns from the council said: "It was a number of events that caused [last year's flooding].
'Extremely costly'
"High winds caused leaves to fall off the trees and cause some blockages, there were some restrictions on the water course, and the poor condition of the culvert.
He said a programme of tree felling, ditch clearing and a CCTV survey of the existing drains had been carried out in recent months.
"The plans will be extremely costly in the long term but we will apply to central government for funding.
"We certainly hope replacing the troublesome culvert with a box culvert will solve the problem."
Local resident Pat Flewelling, who has lived in the village for 48 years, said November's floods were the worst she had ever experienced.
"There was a foot of water throughout the whole house. We stood in the front room and watched it come through the floor boards.
"We're just hoping they get it sorted and we don't have the problem again."