Traffic jam bottlenecks in Gloucester to be eased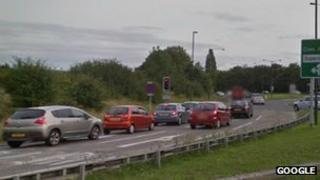 Congestion at two busy roundabouts in Gloucester is to be eased after a bid for Government "pinch point" funding was successful.
Gloucestershire County Council has been given £2.2m by the Department of Transport to improve the "C&G" roundabout and the Walls roundabout.
Work will include changes to the junctions, widening of lanes, a new traffic light system and extra lanes.
The project is due to begin in February and be completed by December 2014.
The total cost of the scheme will be £3.1m with the remaining money coming from the county council and Sainsbury's, which has a supermarket near to the C&G roundabout.
The cash is part of £165m of Government funding for traffic bottlenecks in England that has been announced.