Wounded badger patrols set up in Gloucestershire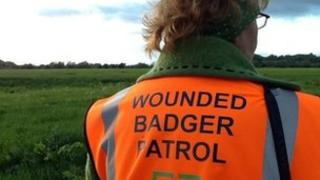 Hundreds of people have signed up for "wounded badger patrols" ahead of a planned cull in Gloucestershire.
Gloucestershire Against Badger Shooting (GABS) said it wanted to rescue badgers that were injured but not killed.
The cull, designed to reduce the spread of bovine TB, is expected to start on 1 June in the west of the county.
GABS said it did not want to sabotage the cull and warned volunteers not to touch injured badgers, which have an "extremely powerful bite".
'Walk peacefully'
Liz Gaffer, from the group, said: "All we're asking people who are interested in the countryside and badgers to do is to walk peacefully and legally as they would normally do in the countryside.
"Our intention is just to look for wounded badgers."
A Defra spokesman said: "We are taking every precaution to ensure the badger cull is carried out in a safe and humane way.
"Culling will only be carried out by trained marksmen who have passed a government approved training course."
The cull will run over a six-week period anytime between 1 June and autumn.
It could see up to 5,094 badgers killed across the two pilot areas - west Somerset and west Gloucestershire.
Under the plans, badgers will be shot in the open using high-velocity rifles, without first being trapped in cages.
Farmers believe the cull will help prevent the spread of bovine TB among cattle.
Animal welfare and wildlife campaigners have opposed the cull, which will allow wild badgers to be shot by trained marksmen when the animals venture out of their setts at night.