Council 'sorry' for empty room letter to disabled woman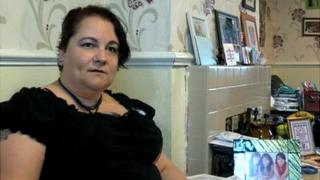 A disabled woman who was wrongly told she had to pay an under-occupancy charge has received an apology from the council for "causing her distress".
Social housing tenant Lina James, 40, from Coleford was originally told by Forest of Dean District Council she had to pay the new weekly charge of £14.
Mrs James' daughter's room is currently unoccupied because she is away at university.
The council has admitted it made a mistake.
The Government's under-occupancy charge - which has been dubbed "bedroom tax" by Labour - came into force in April.
'Really worrying'
Last month Mrs James was notified by officials that money would be deducted from her housing benefit unless she moved out of her specially-adapted home.
She said: "It was really worrying. We were looking at other houses but none of them seemed suitable because if the bathroom isn't downstairs it means I have to go up and downstairs to use the toilet and I can't do that."
After several months of confusion she has now received a letter from the council telling her she will not be charged.
Deputy leader of the council, Cllr Brian Robinson said: "The legislation is relatively complex.
"If you have somebody going away to college the question of whether they're leaving the home temporarily or permanently are questions which may differ for different people.
"Interpretation of the legislation originally wasn't the best way.
"I'm satisfied now that officers have a valid approach which will work in the majority of cases."