Swindon crash: Vigil remembers teenagers who died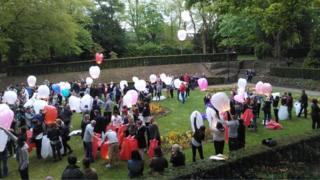 Hundreds of people gathered in Swindon to remember two teenage girls who were killed in a car crash.
Chinese lanterns and candles were lit by family and friends of the five young people whose car careered off the A419 on Saturday at 05:00 BST.
The girls have been named as 18-year-old Shaya Rae Leigh and Kerrylee O'Leary-Staniford, who was 17.
Two of the three male passengers, all aged 20, are in intensive care whilst the third is in a stable condition.
The group, all from Swindon, was travelling northbound in a Renault Clio when the car left the road near the junction with the A420.
Some 200 people gathered in Swindon's Town Gardens on Saturday evening to pay their respects by lighting candles and releasing lanterns.
'Tribute'
Officers described the smash as "horrific" and said the car had been found with substantial damage in undergrowth about 20m from the road.
Ms Leigh, who was driving, was pronounced dead at the scene and Ms O'Leary-Staniford died later at the nearby Great Western Hospital.
Wiltshire Police said several vehicles had been seen stopping on the A419 to leave floral tributes and appealed for motorists to avoid doing the same.
PC Jeff Rice said: "This is a clearway and vehicles are travelling at speeds of up to 70mph. It would be highly dangerous to stop at the scene.
"We fully understand that people want to pay their respects and leave a tribute, and would advise that there is a footpath from the nearby housing estate which will enable people to get to the scene."
'Best of friends'
In a statement Ms O'Leary-Staniford's mother, Helen Staniford, paid tribute to her "beautiful" daughter who was studying travel and tourism at college.
"She loved to travel and as far as I am concerned she has now travelled with Shaya," she said:
"Kerry made her own choice to get into the car that evening and, unfortunately, it was the wrong choice, one which took her away from us.
"Kerry and Shaya were the best of friends. I hope they are happy and that they look after each other in their new place."