Cheltenham gull focus group to tackle bird problem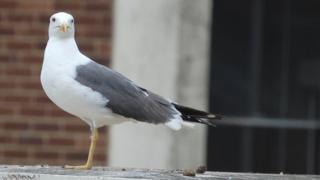 Residents concerned about urban gull numbers in Cheltenham are being asked to do their bit to tackle the problem.
The borough council, which began oiling eggs on Wednesday, said residents and businesses needed to unite in a bid to improve gull deterrent measures.
It costs the authority £5,000 per year to carry out its egg oiling programme - a method which it believes is the most effective use of the budget.
A gull focus group has also been set up for members of the public to join.
'Gull proofing'
Sarah Clark, public and environmental health team leader, said: "We do our best to control the urban gull population with the budget that we have.
"The only long term and sustainable solution is for residents and businesses to unite in their own action by gull proofing their own properties, reducing the amount of food litter and raising awareness.
"With that in mind, we have started an urban gull focus group and are keen to hear from anybody who would like to join us."
The oiling method sees eggs being treated during the laying season and then left in the nest.
Adult birds continue to sit on the eggs, but due to the treatment they will not hatch.
Ten miles (16km) away in Gloucester, a gel repellent designed to deter urban gulls from roosting and nesting, is being trialled by the city council.