Javelin Park waste incinerator decision 'to be defended'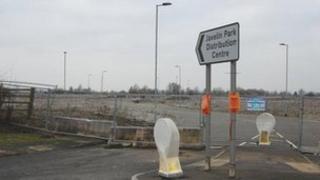 The decision to refuse planning permission for a £500m waste incinerator in Gloucestershire will be defended by the council.
Gloucestershire County Council signed a 25-year contract to build the facility at Javelin Park, in Haresfield.
But in March the council's planning committee unanimously refused planning permission.
The council is now calling on the chief executive to seek robust support to defend the decision during any appeals.
Urbaser Balfour Beatty was chosen by the county council to build the incinerator, which would have the capacity to burn up to 190,000 tonnes of waste per year.
Following the rejection of planning permission the company has not made it public if it will appeal the decision.
'Plan B'
Liberal Democrat councillor Jeremy Hilton said: "The planning committee refused permission to build this massive waste incinerator for sound planning reasons.
"They were unhappy about the size of the building, which is taller than Gloucester Cathedral and its harm to the local landscape and the overbearing impact the incinerator would have on nearby residential properties.
"The council must vigorously defend this decision in any appeal that UBB (Urbaser Balfour Beatty) may take in the future."
During a debate held on Wednesday, led by Mr Hilton, the council supported an amended motion calling for the chief executive to seek robust support to defend the unanimous decision of the planning committee.
It also agreed that a "plan B" needs to be prepared as an alternative to the waste incinerator to process the council's household waste.
A cross party working group will be immediately set up to consider alternatives to the waste incinerator.