Gloucestershire health monitors investment a 'waste of money'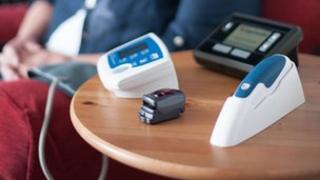 A £5m investment in remote home health monitors in Gloucestershire has been an "absolute waste of money", doctors in the county have said.
In 2011 NHS Gloucestershire invested in 2,000 Telehealth units, which monitor the health of patients, but only about 750 people are using the systems.
GPs in the county said there was little evidence of the benefits to the units.
Gloucestershire Clinical Commissioning Group (GCCG) said Telehealth has helped "several hundreds" of patients.
But Dr Tim Macmorland, a GP in Churchdown, said the systems were ineffective.
"I think it's been handled poorly. It was rolled out to GPs without discussing anything about the system before it was implemented," he said.
"We already knew it was working in the heart failure service, but then we were asked to find patients who had these other chronic diseases for whom the system might work as well, and I don't think it has to be honest, it's been an absolute waste of money."
'Best equipment available'
He added that reviews in the British Medical Journal have not shown any benefits in terms of reducing mortality, hospital admissions or improving well being.
The Telehealth equipment can be used to measure blood pressure, temperature, blood glucose levels or weight. It asks questions and tells patients whether or not they need to visit their GP.
The idea is they see warning signs from patients earlier, meaning their conditions do not deteriorate and patients do not need to go into hospital - saving the NHS money in other areas.
GCCG said they were trying to use the technology to help patients living with long term conditions, alongside clinical medicine.
It added 85% of patients using Telehealth rated it as either excellent or very good.
Dr Will Haynes, a commissioning GP for Telehealth, said: "Several hundred patients, about 1,040 altogether, have used Telehealth over the last year and a half, with about 750 currently using it.
"We constantly review treatments and care that is provided for patients and we're keen to make sure patients are getting the care that they need.
"We are confident that patients in Gloucestershire can have the best equipment available to them."