Waterways museum in Gloucester awarded £50,000 grant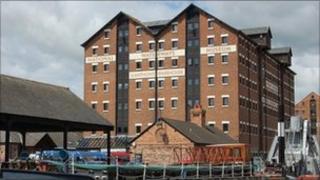 A £50,000 grant has been given to a museum in Gloucestershire to invest in training and costumes for its volunteer guides.
Gloucester Waterways Museum has been awarded the grant from Art Council England.
Guides will be dressed in "traditional waterways costumes" to show visitors around the museum, a spokesman said.
Doreen Davies, museum manager, said it was "fabulous" to see the museum recognised in this way.
The museum, managed by The Canal and River Trust, charts the history of the region's inland waterways.
The grant, from the Art Council's renaissance strategic support fund, will also be used to recruit a volunteer and learning co-ordinator, specialist tutors and for equipment.
"Visitors come to learn about the past in a fun and memorable way," said Ms Davies.
"The funding is a great boost to our work with families and schools."