Cotswold Care Hospice appeals for creative therapy cash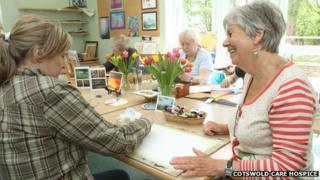 A hospice in Gloucestershire wanting to expand its creative therapy services has launched a funding appeal.
The Cotswold Care Hospice last month received £116,000 from the government but says it needs a further £55,000 for plans to build an extension.
Staff want to double the space currently used for creative therapies including art, music, drama and writing.
The hospice provides all its services free of charge.
It costs £2.8m a year to run the charity, 10% of which comes from the NHS but the remaining 90% must be generated through fundraising and retail.
Jules Eaton, the charity's chief executive, said patient demand for its creative therapies far outstretches the current capacity.
"This extension would allow us to expand our services and sustain the growing number of people who need our support," she added.
The hospice, which helps some 600 people each year, said it offered therapeutic art to help patients cope with anxiety, depression and trauma.
'Explore feelings'
Hospice patient Penny Perkin, from Cirencester, said therapeutic art had helped her deal with her anxieties of having cancer.
"In the art room the outside world gets forgotten and it has helped me find myself again," she said.
"It gives me a sense of achievement and gives me the time and quiet to think about what I want to do with my life."
Anne Tandree, a practitioner at the hospice, said: "Patients often have trouble accessing their feelings through words.
"Therapeutic art allows them the opportunity to explore their feelings and re-connect with life.
"A patient who feels good in themselves is likely to have a stronger immune system and cope better with the medical treatments and interventions."