Patrols save more than 1,000 toads in Stroud's Five Valleys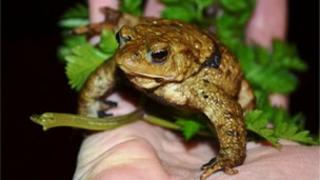 More than 1,000 toads in Gloucestershire have been saved by volunteer patrols helping the creatures safely across roads.
Gloucestershire Wildlife Trust wants to boost toad numbers after so many deaths caused by traffic in Stroud's Five Valleys where the A46 meets the A4173.
Toad patrollers said they had saved 1,282 toads since February and estimate that 151 had been killed.
There are 21 crossing points with 70 patrollers of all ages taking part.
'Unsung wildlife heroes'
Ellen Winter from the wildlife trust said: "The Toads on Roads campaign is vital to save toads from a flat death on Britain's roads and the toad patrollers around Stroud are unsung wildlife heroes."
Patroller Owen Vaughn said: "I never thought I would become quite so passionate about the common toad. Like most people I've never given the toad much thought.
"You can't help but feel sorry for toads as you watch them on their dangerous quest to return to their breeding pond, especially when up close to them you can see they are not ugly and covered in warts like most believe but in fact beautiful creatures"
'Long, wet nights'
"I am already looking forward to next year to see if the record will be beaten despite the sometimes long, wet nights."
Fellow patroller Gemma Waters said: "It felt really great to be helping the toads as they are not as common as they used to be and they make such a cute 'chirp' in the bucket."
Last year about 300 toads were rescued, with some populations in the Stroud area becoming extinct.
Patrol groups have also saved more than 60 frogs and newts.
Ellen Winter said some of the crossings were still unpatrolled and that anyone interested in taking part should contact the trust.
She said more patrollers were needed in the Cam and Dursley area.