Gloucester Cathedral welcomes three new gargoyles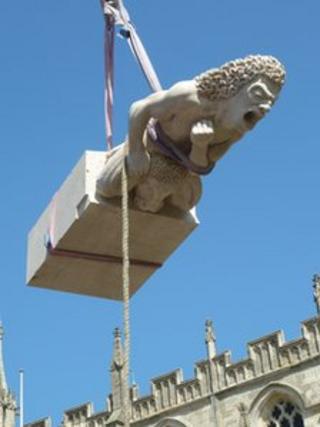 Three new gargoyles have been lifted into position in the south aisle of Gloucester Cathedral.
The maiden, the young man and the mother and baby salamander join 10 others all designed by the cathedral's master mason and inspired by psalm 148.
"Carving gargoyles is a rare opportunity for us to express ourselves creatively," said Pascal Mychalysin.
"I am sure our medieval counterparts didn't go to art school, so we are carrying on that tradition."
Gargoyles are used to discharge water from the roof and away from the side of a building.
'Target practice'
The combination of cold and wet conditions can cause severe damage to the building fabric as has happened in the past to the north transept of Gloucester Cathedral, where the whole facade had to be replaced.
Gloucester Cathedral still has some Gothic gargoyles carved at the end of the 12th Century.
Sandie Conway from the cathedral said most of the existing gargoyles were headless, due to intentional damage during the English Civil War.
She said: "There is evidence that the gargoyles were used for target practice by the Puritan soldiers and the stonework on the south aisle shows impact holes from musket balls."