Gloucestershire arts campaign's placard parade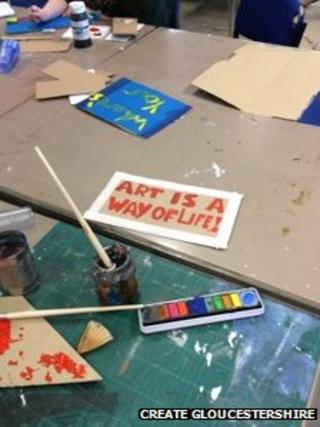 Yarn bombing and placard-making are some of the events being organised in Gloucestershire in a bid to show arts and culture in a different light.
Create Gloucestershire launched its "Art. Not what I expected" campaign in Stroud with the aim of rolling it out across the county.
The campaign began with a parade of placards through the town centre.
A spokesman said they wanted to connect with people who might think art is not for them.
The campaign, which aims to challenge conventional perceptions of art and emphasise the positive contributions art and culture make to society, will run until July,
Events include a "flash knit mob" picnic at Stratford Park Leisure Centre, with yarn bombing and other knitting activities for both the experienced and total beginner.
Yarn bombing, also known as guerrilla knitting, is a type of street art using knitted yarn rather than paint, such as the dressing of statues in woolly hats and scarves or hanging pompoms in trees.
People will also be encouraged to bring memories, images or artefacts relating to rivers and streams to the Museum in the Park as part of a Miniature Museum of Memories.
And "museum guerrilla drop-ins" will also take place at some surgeries, with people asked to guess the artefacts and tell their stories in response.
The events have been set up by groups including Prema, Stroud Valley Arts, Art Couture Painswick, Museum in the Park, Hawkwood College, the Subscription Rooms, Tomato Jack, and South Gloucestershire and Stroud College.