Cheltenham Odeon redevelopment plans displayed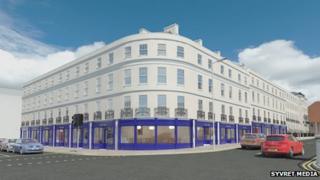 Proposals to turn the derelict Odeon cinema complex in Cheltenham into shops and homes are going on display later.
The cinema, built in 1933, was shut after several decades of entertainment which included appearances from bands such as the Beatles and Rolling Stones.
It has now fallen into disrepair but site owner Leckhampton Estates plans to redevelop the Winchcombe Street plot.
The company has said it wants feedback before submitting a planning application later this year.
"The reaction we've had so far has been encouraging," said a spokesman for Leckhampton Estates.
"When we acquired the site a few months ago, nothing of the original cinema interior remained.
"It is totally derelict and, according to our structural reports, in a pretty poor state of repair."
The exhibition is open from 15:00-19:00 GMT at Trinity church's Fusion centre in Winchcombe Street.