Proposal for £30m Crickley Hill crawler lane on A417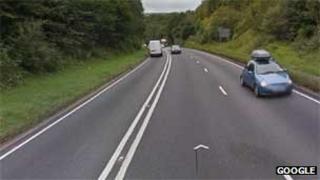 A £30m crawler lane has been proposed on the A417 in Gloucestershire as a way of easing congestion at a notorious bottleneck.
The idea for the additional lane on Crickley Hill has been put forward by the ruling Conservative group on Gloucestershire County Council.
The hill leads to a single carriageway section of the A417 which links the M4 and M5 between Gloucester and Swindon.
Work to dual the carriageway has been put at between £250m and £500m.
'Grind to a halt'
"There is a plan on the table called the green route - the cost is anything from £250m-£500m - but we're not going to get that money tomorrow," said Conservative group leader Mark Hawthorne.
"One of the issues on the A417 is lorries breaking down, so a solution we could bring forward now is build an additional crawler lane next to the Air Balloon roundabout to ensure traffic doesn't grind to a halt when a lorry gets stuck.
"That may potentially cost £20m-£30m," he said.
The Liberal Democrats agreed something must be done to improve connections between Gloucester, Swindon and London but said the trunk road was the responsibility of the Highways Agency.
"We have to lobby the government," said Liberal Democrat group leader Jeremy Hilton.
'Linear car park'
"It's not the responsibility of the county council to pay for the dual carriageway."
The Labour group leader, Lesley Williams, said anything which would get traffic moving and reduce emissions would be helpful but added: "It is about lobbying central government to allow us to have the money to fulfil the work."
But Sarah Lunnon from the Green Party said 60 years of road building as a policy had failed and what was needed was "a complete reappraisal of the transport infrastructure".
"The idea that you can build roads to reduce congestion is so completely discredited," said Ms Lunnon.
"I'll give you one example - the M25 around London. It was built to solve congestion problems but it didn't work and we've now got another motorway that's a linear car park.
"I'd like to see the £30m the Conservatives are talking about spending on one road used in urban areas to get people to use different transport methods," she said.