Gloucester Rugby 'lifesaver' fan thanked by family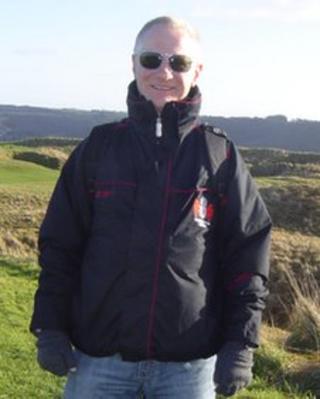 A rugby fan who gave CPR to an elderly man suffering a heart attack after a Gloucester Rugby game has been thanked by the victim's family.
Kevin Morris, from Abbeymead, became involved when he saw the crowd on Estcourt Road around David Youdan, 78.
Mr Youdan's family put out an appeal to find the passers-by who helped.
Mr Morris said it was "a very surreal and harrowing situation" but was "a great feeling" to help.
'Such quality'
On Tuesday Mr Youdan's granddaughter, 16-year-old Saskia Willemstein, used Twitter in an attempt to trace those involved.
She sent a message to Gloucester fly-half Freddie Burns, which he later retweeted, saying "if it wasn't for those fans he would have died".
Speaking to BBC Radio Gloucestershire, Ms Willemstein said her brother, dad and grandfather had been to watch Gloucester play London Welsh on 22 March.
She said: "Afterwards they were waiting to be picked up by mum on Estcourt Road and he [her grandfather] collapsed because he had a heart attack.
"My brother put him into the recovery position. Then a London Welsh fan and a Gloucester fan came to help and gave him CPR which was of such quality that he was able to survive."
She added that paramedics had to give him four shocks to get his heart back to a steady pace before taking him to hospital.
'Great feeling'
Mr Morris, a garden centre manager who has had first aid training, said that when he first arrived it appeared necessary that Mr Youdan needed further treatment.
"He was unconscious but breathing," he said.
"We put him on his back and whilst I was giving chest compressions, a lady - who I don't know - sort of came over to help and gave him mouth-to-mouth as well."
He added that it was "such a great feeling" to be able to help.
"For anybody that is remotely thinking about doing first aid training, please get out there," he added.
"It takes a little bit of courage, and it took a little bit of courage for me to go out there and do it, but it's just a great feeling."