Gloucestershire A&E units record 'exceptionally high demand'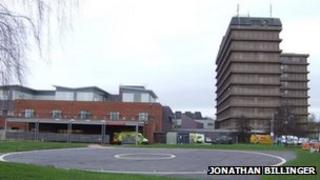 Accident and emergency units in Gloucestershire Royal and Cheltenham General Hospitals are experiencing "exceptionally high demand", the NHS Trust has said.
It blamed demand on a prolonged winter increasing respiratory illness cases.
In an email to staff, the trust thanked them for "managing" the situation.
But some staff are concerned matters will worsen when a plan for ambulances to be diverted overnight from Cheltenham to Gloucester is adopted.
One nurse, who did not wish to be named, told BBC Radio Gloucestershire: "We're seeing high levels of activity but we're managing that. We need to be looking ahead to make sure we can maintain that."
In a statement, a Gloucestershire Hospitals NHS Foundation Trust spokesman said the changes, which will affect services between 20:00 and 08:00 BST, had been devised to "provide more robust senior cover and a better service for patients".
He said it only affected "blue light" attendances during these hours, and walk-in patients would continue to be seen at Cheltenham 24-hours-a-day.
"We are naturally working to ensure that there is capacity for these patients in the emergency department and on our wards at Gloucestershire Royal," he added.
The NHS estimates that on average about 16 patients with critical illness or injury will be diverted from Cheltenham General Hospital to Gloucestershire Royal Hospital at night, when the changes are introduced in August.