Wild boar in Forest of Dean blocked from picnic area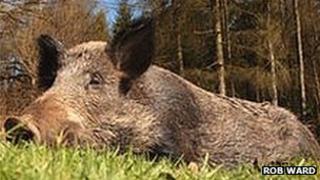 A tourist spot in Gloucestershire which has been "destroyed" by wild boar is to be protected by a wire mesh fence.
The Forestry Commission is putting a 1.2m (4ft) high barrier around the Beechenhurst Lodge picnic area in the Forest of Dean.
The site has been churned up by wild boar rooting over the grassed picnic area in search for food.
Ian Harvey, from the commission, said the poor weather last year and lack of nuts had made the problem worse.
Boars have roamed wild in the Forest of Dean since 2004, when they were reintroduced following an absence of 700 years.
But following complaints of damage to gardens, danger to dog walkers and riders and boar-related road accidents, a cull was introduced.
'Just helped themselves'
Mr Harvey said: "Each year - apart from last year - we've culled double the amount of animals and yet the damage and sightings and presence of boar was increasing all the time."
With fewer nuts to eat, Mr Harvey said the boar rooted through grassed verges and picnic areas in search of worms and insects.
The picnic area at Beechenhurst Lodge is one of the most visited spots in the county.
To protect it, a 2,000m (6,560ft) fence will be erected around the entire site and be barbed to prevent boar burrowing under it.
"It's cheaper than trying to put the damage right each year," said Mr Harvey.
"The problem is you put it right and a couple of nights later, they come back and it's as bad again."