Gloucester gunman sought after pair injured in shooting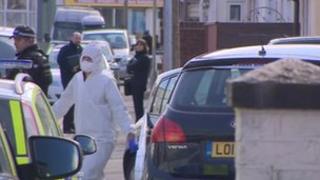 A gunman is being hunted by police who are investigating the shooting of two men in Gloucester.
The pair were found injured at a house on Falkner Street in Tredworth at 04:15 BST and taken to hospital.
One man, aged 46, has arm injuries and possible nerve damage while the second, aged 47, was treated in hospital but later discharged.
A cordon is in place around the house but no arrests have been made, police said.
Ch Insp Richard Burge said: "We have officers with the victims at the moment trying to establish the facts, and obviously as the day progresses we will hopefully get more information."