Gloucester street closure scheme extension to be trialled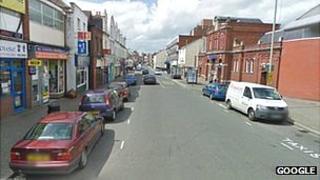 A scheme to close roads in Gloucester city centre to help protect weekend clubbers is to be extended.
Eastgate Street, between Nettleton Street and Bruton Way, is already closed to traffic between 22:00 GMT and 05:00 on Friday and Saturday.
But from 5 April the closure will be extended to the Clarence Street junction for a trial period.
Ch Insp Richard Burge said: "We are determined to make a night out a safe and pleasant experience."
'Dangerous situations'
The street will be closed to vehicles, including taxis, between 23:00 and 05:00 on Friday and Saturday for three weekends.
Mr Burge said taxi drivers and pub and club owners were "fully behind" the scheme.
He added: "While the current restrictions have really helped, we believe the amount of footfall on Eastgate Street on Friday and Saturday nights means that this extension is necessary.
"Pedestrians and vehicles don't mix well and with people spilling out onto the streets from pubs and clubs dangerous situations can arise."
If the trial is successful consideration will be given to making the arrangement permanent.
This would see a statutory consultation period during which representations either for or against the proposal can be made.