Gloucestershire highways teams to tackle more potholes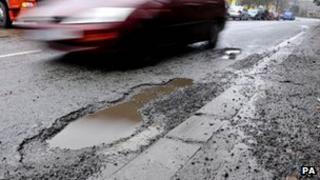 Six extra highways teams are being brought in to tackle Gloucestershire's potholes.
They are part of a £3m investment, announced by Gloucestershire County Council last month, to fix roads damaged by the winter weather.
The teams will be treating a further 15,000 potholes on top of those already being tackled.
The council said road-users should notice an improvement over the next six months.
Following a particularly bad winter the council said its highways teams expect to have repaired more than 50,000 defects in the road by the end of this financial year.
Councillor Will Windsor-Clive, cabinet member for communities, said: "The combination of wet and cold weather this winter has left some of the county's roads in a very poor state and as a county council we have looked to ensure that all these problem potholes are treated as quickly and effectively as possible."
In January the cabinet invested £1m of council underspend to repair the roads worst hit by floods in November and December.