Westbury-on-Severn Surgery open for just four hours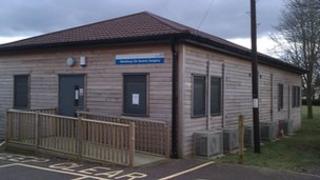 A new £300,000 doctors surgery has only been used for four hours since it opened earlier this year.
The Westbury-on-Severn Surgery opened for its first day in January but has been closed ever since because of IT problems.
It means that people living in the area have been travelling to Newnham-on-Severn to see a doctor.
NHS Gloucestershire said it was "very close" to resolving the issues that have closed the surgery.
Dena Bryant-Duncan, who lives in Westbury-on-Severn and was speaking alongside her husband who has had four heart attacks, said: "It's disgusting in this day and age.
"There it is sitting all beautiful with every facility and we're cramped and having to go down to Newnham, which is very inconvenient as we're both disabled people."
'Computer connectivity problems'
Forest of Dean District Councillor Norman Stephens, who represents Westbury and Newnham, said the closure had been "exasperating".
He said: "Everybody was excited and now everyone just feels...well it's unbelievable.
"It's exasperating for local people to have to travel to Newnham and a lot of people in Newnham would also rather come to Westbury because of the ease of parking, especially if they are disabled, or have to put people in the car."
The surgery building, which is next to the Parish Hall, is owned by NHS Gloucestershire and cost £300,000.
A statement on the surgery website said despite their best efforts to open in January, it "rapidly became apparent" they could not provide an "efficient service" due to serious computer connectivity problems.
Debra Elliott, of NHS Gloucestershire, added: "Both the practice and NHS Gloucestershire have been making every effort to resolve the situation as quickly as possible, and the PCT's IT team has been working with to establish the cause of the problems.
"We are now very close to resolving the connectivity issues and the [Primary Care Trust] will be meeting with the surgery next week to finalise the options."