Meningitis Trust and Meningitis UK to merge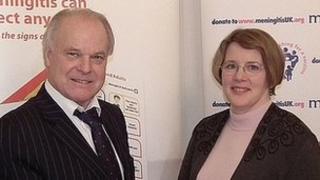 Two charities have announced plans to merge in April to create the "UK's biggest meningitis charity".
The Stroud-based Meningitis Trust in Gloucestershire and Meningitis UK in Bristol have been working in partnership for the past four years.
In a joint statement, the organisations said the merger will "bring together expertise in research and prevention".
The charities will continue under their current names until later in 2013 when a "new-look" charity will be launched.
The Meningitis Trust was formed in 1985 after a group of parents got together following an outbreak of the disease in Stroud and Stonehouse.
A year later it became a registered charity. Since then it has taken more than a million calls on its 24-hour helpline.
'Greater impact'
Sue Davie, from the Meningitis Trust, has been appointed chief executive of the merged charity.
She said: "We both feel that as organisations the next step is to come together because that will give us a louder voice, let us reach more people who need support and raise awareness.
"It will make us financially stronger, which in the current environment is a positive, and we believe it is in the best interests of the very people we exist for."
The Bristol-based charity Meningitis UK was set up by Steve Dayman, who lost his 14-month-old son Spencer to the disease in 1982.
He said: "By coming together we will have a greater impact in the UK, funding not only pioneering research programmes but providing the best education and support services available."
There are no planned redundancies as part of the merger, according to a joint spokeswoman for the charities.
And the organisations will continue to operate from existing office space, she said, but this may be reviewed when the current leases expire in 2014.