Gloucestershire Wildlife Trust to buy Laurie Lee's wood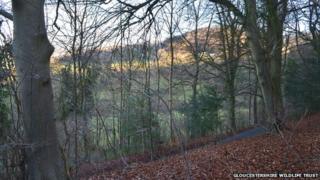 A wildlife trust has raised £35,000 to buy a wood owned by the family of author and naturalist Laurie Lee.
Gloucestershire Wildlife Trust (GWT) said it received an outstanding response after launching an appeal for funds.
The trust has raised the money from almost 1,000 donations over the past six weeks.
The three hectare Trantershill Wood, in the Slad Valley, is abundant in native flora and fauna.
Lee's novel Cider With Rosie, published in 1959, is set in Slad and has sold millions of copies worldwide.
Roger Mortlock, CEO of Gloucestershire Wildlife Trust, said: "We knew that this was a special place and that there would be amazing support to secure it from our members.
'Delighted and relieved'
"But we have been truly overwhelmed by the support from all over the UK. It's great to know that in the middle of a recession people still value this county's stunning countryside."
Laurie Lee's daughter, Jessy, previously said she had wanted GWT to buy the woodland.
"I am so delighted and relieved that Gloucestershire Wildlife Trust, will take on the woodland. It will be in the best possible hands," she said.
"I am deeply thankful for the generosity and passion of the people who have donated to make this all possible so that we can enjoy and preserve this great pocket of English wildlife."
The woodland, which includes rare species such as white helleborine and carpets of bluebells, is next to the trust's existing nature reserve Swift's Hill.
Pete Bradshaw, Stroud area nature reserves manager, said: "To be able to safeguard this ancient woodland is really exciting.
"Managing Trantershill Wood means we'll be creating over 13 hectares of living landscape in the Stroud Valleys."
The Trust said it was now "looking forward" to officially opening the nature reserve in the spring.