Javelin Park incinerator given draft environment permit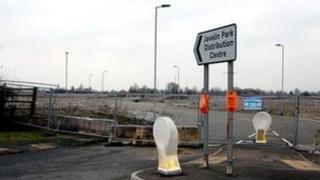 An incinerator in Gloucestershire has been given a draft permit by the Environment Agency, which said it was "minded to grant" a full permit.
The county council has already signed a 25-year, £500m contract with Urbaser Balfour Beatty for a waste incinerator at Javelin Park near Haresfield.
The new facility will require planning permission and an environmental permit before it can be built.
Planning permission for the plant is due to be discussed on 21 March.
Public consultation
A spokesman for the Environment Agency said: "On the basis of the information we have so far, we are thinking of granting the permit.
"Before we make our final decision, we are carrying out a consultation on our draft decision.
"As part of this we have published a draft decision document and a draft permit."
The consultation opened to the public on 20 February and will run until 12 April. A drop in session will also be held at Stonehouse Town Hall on 12 March.
Plans to build the incinerator have attracted opposition from more than a thousand people.
Objections include its size, location, cost, environmental impact and potential health implications.