Gloucester city centre gets new police dispersal order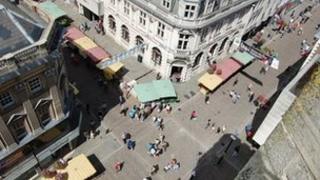 Police in Gloucester have been given new powers to move groups of people out of the city centre if they look likely to cause trouble.
A six-month dispersal order, intended to tackle anti-social behaviour, will run until September.
Officers can make groups leave an area for 24 hours if they are concerned about their behaviour or intentions.
Police judge whether the behaviour might result in the public "being harassed, alarmed or distressed".
'Effective tool'
Gloucester City Council has agreed that the order, which allows both police and community support officers to take action, can begin next week.
A previous city dispersal order ended in January when police said it had been so successful it did not need to be renewed again.
However PC Matt Hammond said that whilst anti-social behaviour had gone down in the city, its potential increases in the spring and summer months, so this order would be a "tool that is used in a proportionate manner".
He added: "We will now once again have the benefit of what is a really effective tool to ensure the extremely small minority who spoil everyone else's enjoyment of the city centre can be ordered to leave, and receive a strong punishment if they ignore the order."